DIY Raised Planter Box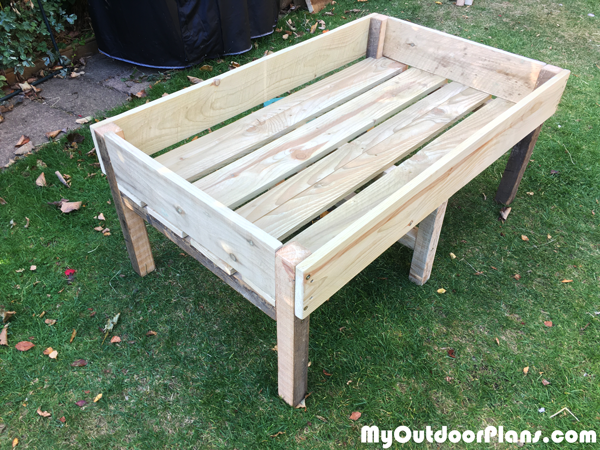 From James, 
This was my first attempt at a plan from the site and it's gone pretty well. I ordered the wood from a local wood yard (with a load of other stuff as I'm building raised beds and the BBQ shelter as well). Conversion from imperial to metric was tricky, especially when I learned 2×4 isn't actually 2×4, so accurate measurements go out the window. If I could get away with it, buying a circular saw and cutting everything to size myself would be the best way forward.
The vagaries of twisting in the wood also make really accurate work for a beginner difficult. It's turned out well though. I haven't used shelves, as the box is actually to support a plastic tub for my little one to play with her toy diggers, so I needed one more piece of 2×2 as a cross beam for the middle legs. The whole build was done with a battery drill driver, electric sander and a simple jigsaw on a work bench. Drilling guide holes was the best advice as it stopped the big screws splitting the wood especially through the narrow sections. Thanks so much for the plans, fingers crossed for the grill shelter! Eek!