I am new to DIY. Where do I start?
Welcome! We all start somewhere, so as a guy who has been around this world both building and designing plans for 10+ years, I am here to have your back. As you probably know, there are 1000+ free plans on this blog that will help you build amazing projects with different levels of difficulty. Moreover, I have a page with Tips for newcomers, so make sure you read it carefully before starting your first project. START HERE! Cheers!
Are your plans printable?
YES! All my plans are printable. You can print the plans or save them as a PDF file using the floating widget on the left side of the screen (working only on desktop, not on mobile). The widget has a printer icon. It would be a great idea to disable the AdBlocker before trying to print or save the plans, so you make sure it works.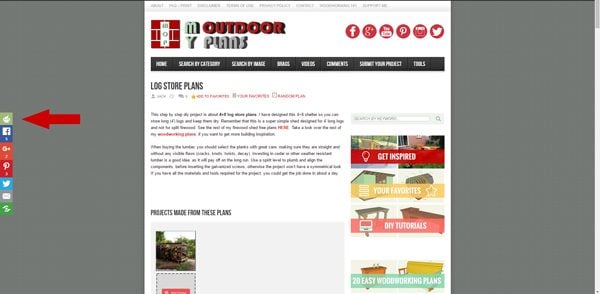 UPDATE 2:
The print function is available again. Use the plans for personal use ONLY! The distribution of the plans on another websites / print form is strictly forbidden, and if you do that, you are liable to copyright infringement law. If you want to share the plans with your friends, SHARE THE LINK TO THE WEBSITE and not the plans themselves! 
I reserve the right the disable the Print function, if you don't follow the Terms of Use. I want to keep the plans free, because that's the main goal of this site TO HELP, but make sure you also respect MyOutdoorPlans and its copyright to all plans / drawings / instructions published on this website.
UPDATE 1:
Due to numerous "people" printing / downloading my plans and using them for other purposes than the ones allowed by the TOC of this website, (selling my plans, publishing them on other sites is STRICTLY FORBIDDEN and liable to law enforcement) the PRINT function is not available at the moment. For the good people out there I am sorry, I will make this available again once I make sure the ones who crossed the line of decency pay for their malicious actions. 
How much will your projects cost to build?
I have not included a cost estimate in my plans, as the price of the materials differ according to your location. In addition, there are many considerations when building projects, starting with the type of lumber you are going to use (construction, pressure treated, redwood, cedar etc) and up to the extras you choose the install. The easiest way to determine a rough estimate is to use my MATERIALS LIST. I put a lot of time and effort in making the list as accurate as I can, so you only have to add up the costs for each item.
When are new plans posted on the site?
I try to post plans at least three time a week: Monday, Wednesday and Friday. Sometimes, if I have more time available, I publish almost daily.
What do you tools do you use/recommend?
If you just started building projects, you only need a drill, drill bits, a saw, a sander, a tape measure, a carpentry square and eyes / ears protection. As you tackle more complex projects you will need to invest in more complex tools for specific tasks. If you are interested in buying/upgrading your tools, I have made a list with my recommendations: http://myoutdoorplans.com/support-us/
Are there premium versions of your plans?
All my plans are totally free and I will keep them like this for an indefinite period of time. I have started this blog having in mind the needs and budget of an average DIY-er and I understand how important it is to have access to quality plans 24/7.
NEW I have created a shop, where you can find all my Premium Plans that have multiple benefits compared to my Free Plans (Cut Diagram Plans, PDF Download, Ad-Free, etc.). I also have special bundles with several plans with a HUGE discount. Buying my premium plans is also the best way to help and support my work! Check out My Shop NOW!
*Remember that the premium plans are re-engineered and thus improved in all ways. As a consequence, the Premium Plans are not identical with the free versions on the blog.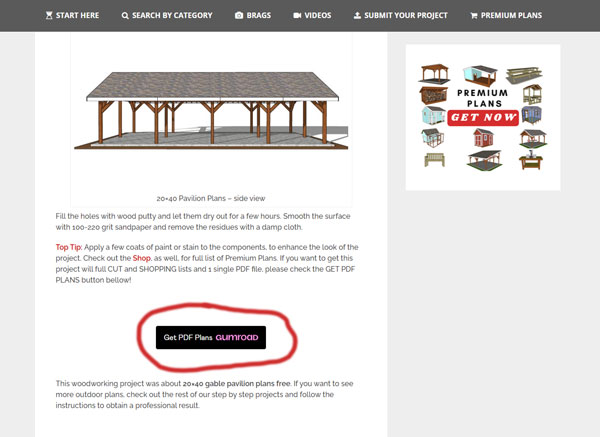 To buy the Premium Plans you can use the SHOP, or you can scroll down on the articles and hit the GET PDF Plans button. A window will open with all details about the Premium Plans.
Once you checkout, you will receive automatically an email with a link to the PDF plans. Make sure you enter the right email address so you can receive the plans. Inside the email you have a VIEW CONTENT button; press it then click on DOWNLOAD. That's it! 
What software do you use to create the plans?
I use Sketchup.
Do you make custom plans?
It depends. Even if I design plans using readers suggestions and I encourage you to share your project ideas with me, I cannot create them for all sizes out there.
Are your plans stamped?
No. If you need stamped plans for a building permit, you have to work with a local engineer.
Can I build projects using your plans and sell them?
Yes, of course. I have started this site wanting to help as many people out there, so you can use my plans for both home projects for also for setting a small business (garage workshop type of business). However, don't forget to show me your projects, so I can feature them on the site!
If you plan to use my designs on larger scale, you need to email me and talk about it.
How can I support MyOutdoorPlans?
The greatest reward I can get for my work is to see the projects built by you using my plans. Therefore, send me a few images of your diy projects using this form: http://myoutdoorplans.com/contact/
Make sure you take a look over My Shop with Premium Plans. Buying my plans is the best way to support my work and efforts, at the time being. Don't miss the Special Bundles with HUGE Discounts!
If you feel extra generous, you can send me a donation through PayPal. Thank you! If you want more details on how to support MOP, I have a dedicated page with complete details.
Do you also build projects or you just design sketches?
I have been building projects since I was 10 year old. Working with wood is my therapy, so when I have some spare time I'm usually in my workshop making stuff. I haven't shared my DIY work on the site as I'm focusing on making the largest resource of outdoor plans on the internet. I am the kind of guy that would rather excel at doing just one thing than chasing two rabbits. However, I still build projects out of necessity. You can take a look over some of my personal DIY projects, on my other blog at: http://howtospecialist.com/category/featured_projects/
Who is running MyOutdoorPlans?
My name is Ovidiu and I own MyOutdoorPlans.com I am the one designing the plans and answering the questions. I don't like to stand out, as I try to focus more on creating better plans each day, rather than talking about me. MyOutdoorPlans is all about YOU and YOUR projects! Read more about me HERE. I also have an assistant that takes care of the administrative matters.
Where can I find MyOutdoorPlans on social media?
Do you have a newsletter I can subscribe to?
Yes, I have a newsletter that I send weekly to my subscribers and it is Absolutely FREE. The newsletter consists of the latest plans and brags published on the blog. In addition, I will share Discount Codes for my premium plans shop, so you can save money and use them for building projects. So if you don't wanna miss any of my future plans, subscribe to my newsletter. It only takes a minute and I promise I won't spam your inbox: