Who am I?
---
Hello everyone, my name is Ovidiu and I am the person running this blog. Thank you for taking the time to visit my site! Since I was a kid I enjoyed building projects with my grandfather, who remains to this day my role model. He taught me the basic woodworking techniques and how to use hand tools. But more importantly, he seeded an idea into my soul… the idea that you can build things by yourself, you can find solutions to problems, you can surprise the loved ones with an object made with your own hands and that you have to leave a piece of yourself in everything you do.
I started with basic woodworking projects and I fell in love with the endless possibilities DIY projects give you. It's about a lot more than saving money, it's about freedom, creativity and the satisfaction you have when seeing all the parts of a project assembled. I also find it rewarding to end a day and look back to the tangible progress I've accomplished. I love the challenge, I love the game, I love the wood smell and texture, I love having my hands dirty, I love tearing my clothes while building things. I love doing things with a meaning and building projects is a great help.
I have a Phd in Economics, more specifically in business administration. After buying my own house, much like every one else, I wanted to improve it and add exciting projects to my backyard. Soon I realized there were not enough detailed and free plans for outdoor projects. So in my spare time I use my software skills and design expertise to create easy to follow DIY projects. Although I have read lots of woodworking books and have done hundreds of projects, you should not take everything I say by granted. I only show you my vision, the way I build things so if you happen to have a different opinion let me know. Also, always read the local building codes and use the best safety procedures, so you avoid injures. 
Building projects for many years and having a decent experience in dealing with lumber gave me confidence to take the initiative and start this blog. I hope you will be following me through this journey and prove ourselves that improving our homes doesn't have to be expensive nor time consuming, but fun and relaxing! Whether you are a beginner or an expert DIY-er, my plans will make your life easier. I don't know where my life path will take me in the future, but I will keep this online project active for as long as I afford it. Keeping all the plans free is my way of helping the world become a better place, with a tiny, tiny drop of my sweat. It is not much, but it is my way of giving back the best of me.
Using 3D models, I create step by step tutorials with detailed diagrams and complete cut lists. Then I publish the projects on my site so everyone can access them for free 24/7. I come up with new plans every week so you can have many options to choose from! See some of the topics I cover on MyOutdoorPlans by checking the links below:
How MOP started
---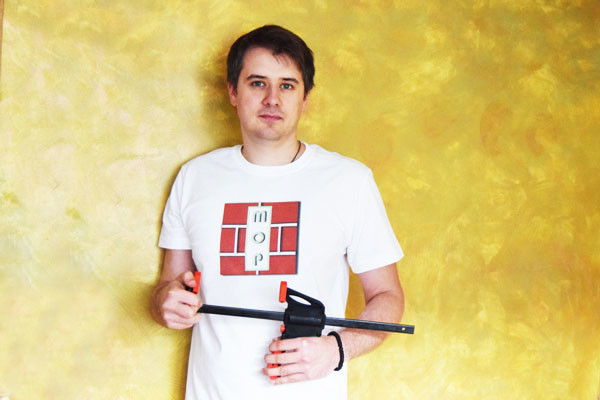 MyOutdoorPlans was created on July 4, 2012. In as short as 3 4 5 years, we now have over 1000 free plans on the site, thousands of visitors daily and hundreds of projects submitted by DIY-er from all over the world. The best part is that MOP continues to grow everyday and it won't stop here! All the plans will always be free so that anyone can access them 24/7.
MyOutdoorPlans is a website providing free and original woodworking plans for DIY enthusiasts and handymen. I am here to help you save money by providing high quality plans that come with everything you need to know for a successful endeavor: diagrams, instructions, tips and a cut list. You can see my DIY tutorials on HowToSpecialist.com and HowToFixAHoleInDrywall.com.
MyOutdoorPlans is also a platform for you to SHARE your DIY projects with the rest of the world. If you build a project you can easily share it with the rest of the community and inspire others to follow your woodworking journey, by publishing it on the site.
What MOP mission is
---
My main goal is to help anyone who wants to build an outdoor project but haven't found the right plans or lacks inspiration. I want to motivate you to make your garden a better place to live in and to use all the extra-energy in a creative manner. I launched MyOutdoorPlans.com having in mind the needs and tastes of a large mass of heterogeneous DIY-ers who seek creative ideas to freshen-up the look of  their backyards to a cozier area.
I strive to create detailed and simple plans that require the least amount of work and materials. I am committed to my goal of creating the most comprehensive resource of outdoor woodworking plans, so make sure you come back for fresh plans every week. Due to multiple requests from my readers, I have recently added a new section on the website, covering indoor plans. Good luck with your DIY projects!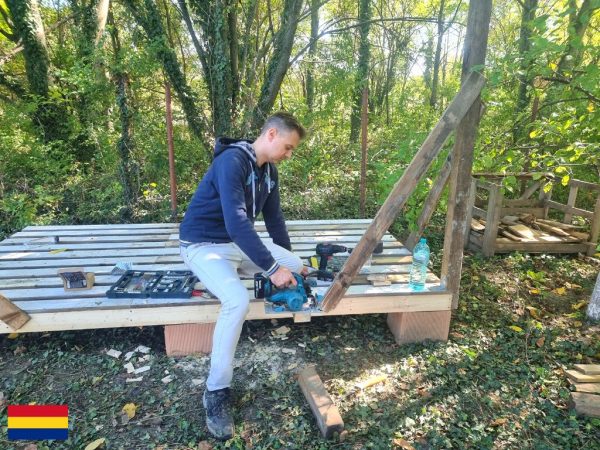 Where you can find me on social media
---
Tips for using MyOutdoorPlans
---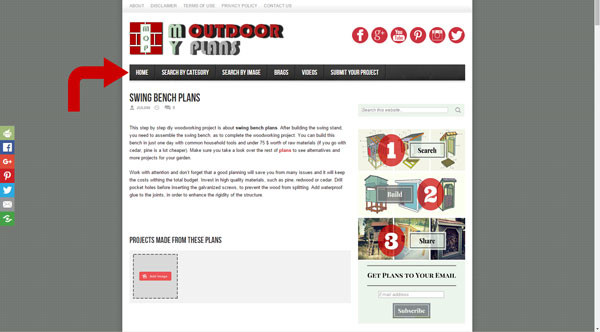 If you are new to the site, the structure might look intimidating. In order to make the most use of my plans and always find the right projects for your needs, you should check out the free plans list. Click the links in the menu bar to have access to a detailed list with all the plans on our site, structured into easy to use categories.
Random Posts
---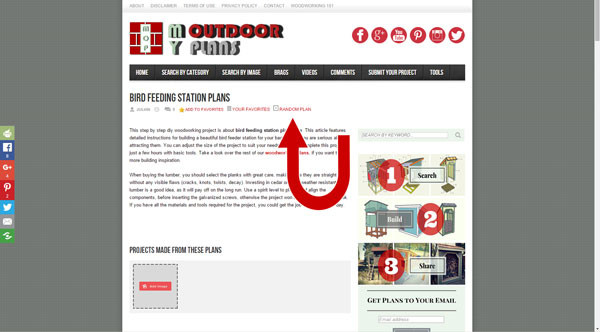 If you don't want to search for a particular plan or project, you can still enjoy MyOutdoorPlans by choosing the see random posts. Therefore, you should press the Random Plan link placed at the top of the page, as shown in the image. In this way, you can see what MyOutdoorPlans is all about without having to browse through the plans list.
SEARCH BUILD SHARE
---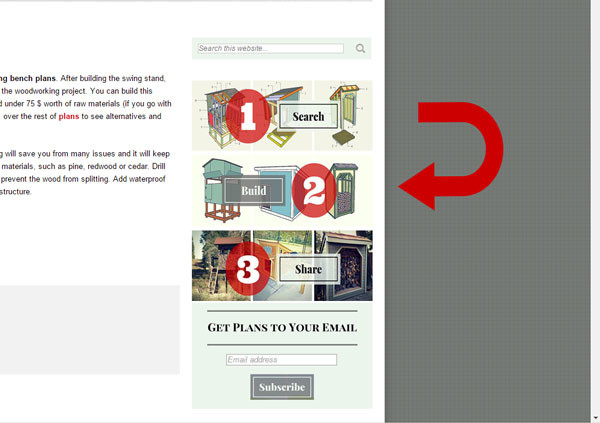 In the sidebar you can see links to other sections of my site. Therefore, you can search plans, submit your projects easily by using the submit form, see all the brags sent by the community or have access to simple woodworking tips that will make your life easier.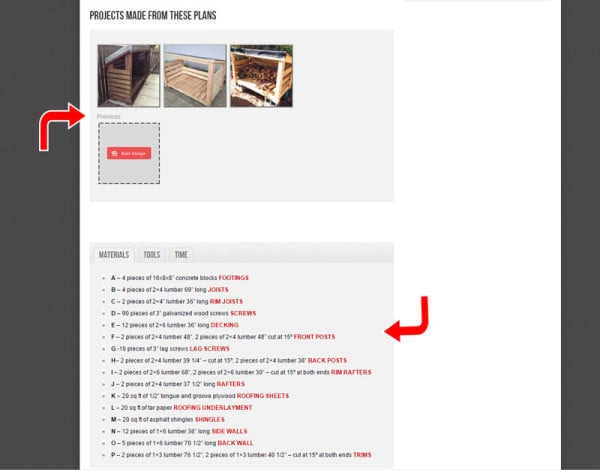 All the plans come with a detailed list of the materials required for the project. The cut list is properly structured into components so that you can follow the materials needed easily. In addition, each plan featured images submitted by DIY-ers all around the world that have built the project. Thank you for submitting your brags, as it is highly appreciated by everybody!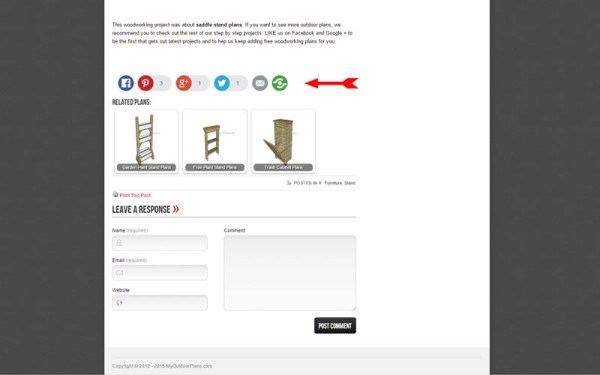 If you enjoyed my plans, we would love to see your likes, shares and pins. Even if this might seem unimportant to you, it makes all the difference for us. I will continue to add free plans. However the process takes a lot of time and resources. The only way to help me keep adding free plans is by spreading the word about our site. Thank you for helping the community grow and for being part of it!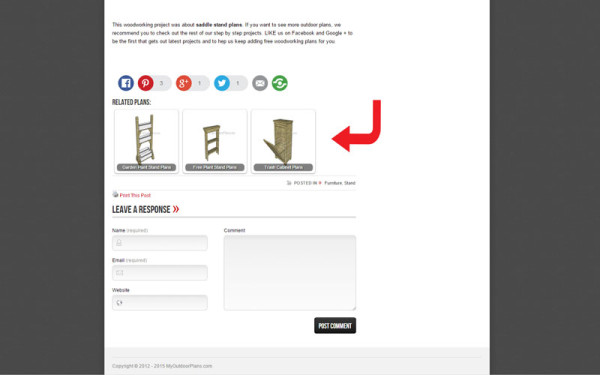 After reading the articles, you should definitely check out the related plans. In this manner, you can see similar plans that could easily suit your needs. It is always a good idea to take a look over more projects, as you can come up with creative ideas or learn new techniques. If you have something to ask or to add regarding the projects, please take the time to leave a comment.
Print Friendly
---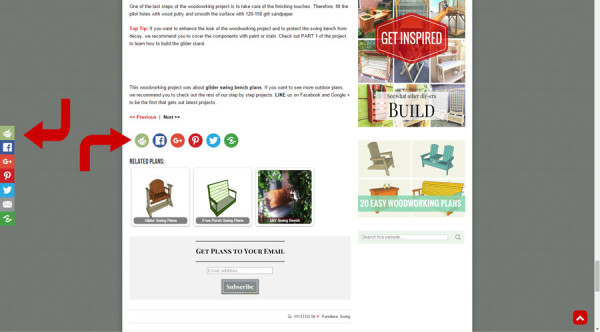 MyOutdoorPlans is a print-friendly site. I have introduced this feature to ease your work. After choosing the right plans for your needs you can just print them so you can have them next to you when assembling the project. In addition, having the plans printed will also help you when buying the materials needed for the project.
Add to favorites
---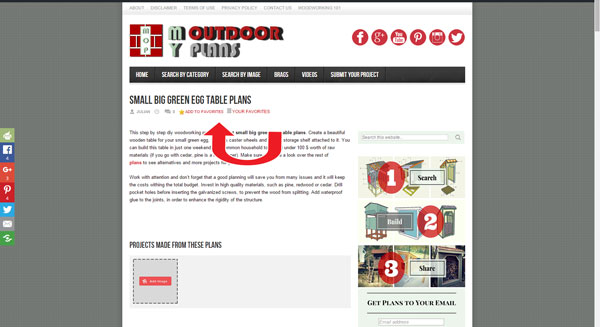 This is the latest feature I have added to MyOutdoorPlans. If you have found a plan that inspires you, click the ADD TO FAVORITES link. In this way, you can find the plans you like easier when you come back to the site, without browsing through the categories.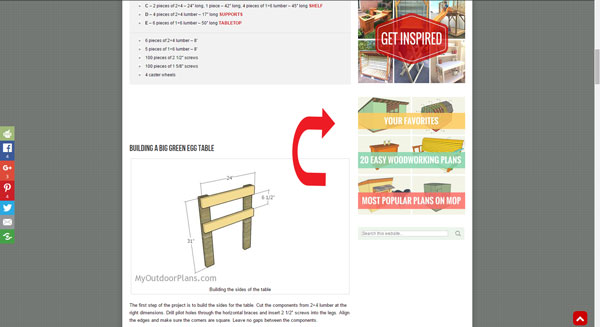 Click on the YOUR FAVORITES menu to see the list of plans you saved. The great thing about this feature is that you don't need to create an account. However, when you clear your browser's cookies the saved list of plans will be deleted. Start here about reading on Woodworking 101!
SUPPORT FREE WOODWORKING CONTENT ON MOP
---
If you have benefited from MyOutdoorPlans and you would like to support the site, so I can keep adding new plans and projects, there are several options. By supporting MyOutdoorPlans on an ongoing basis, you are not just helping me out, but also keeping the plans available to those who can't afford to contribute. See HERE how you can support MyOutdoorPlans, so we can add more free quality content.