DIY Stylish Wood Shed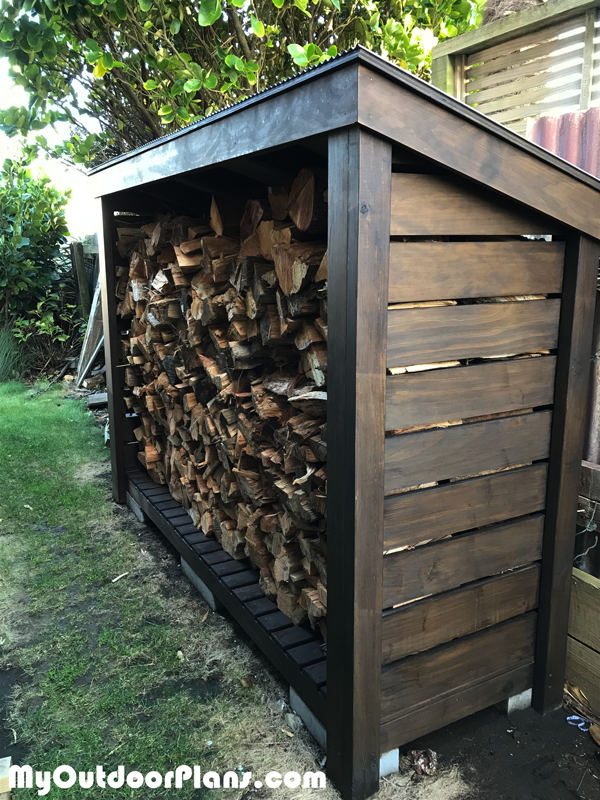 From Andrew, 
This is my biggest woodwork project yet and I'm really stoked with it. I used pine and then stained it. The length is 2.6 m, width 800 mm, height 1.8 m (front) and it comfortably fits 2m3 of firewood while stacking loosely so it can dry out. I used corrugated iron for the roof as I couldn't get hold of asphalt shingles – I probably didn't need the plywood sheet underneath but I think it makes for a tidy finish.
If I was doing it again I wouldn't worry about the fascia around the top as with pocket screws for the frame it's already a neat finish. To do this though I would rip the front top beam at an angle the whole way along so that the roof sits flush with it and you don't see the screws from the roof sticking through – hopefully that makes sense.
Time wise the 80/20 rule definitely applied – I finished the main structure fairly quickly but took forever finding time for the staining and deciding how to do the roof. I'd consider doing a first coat of stain before starting construction as getting in all the gaps of the deck boards and side boards was slow work (even though I did it fairly roughly).
Thanks a lot for the plans, the provided a perfect starting point and I just played with the dimensions.