DIY Picnic Table with Shelter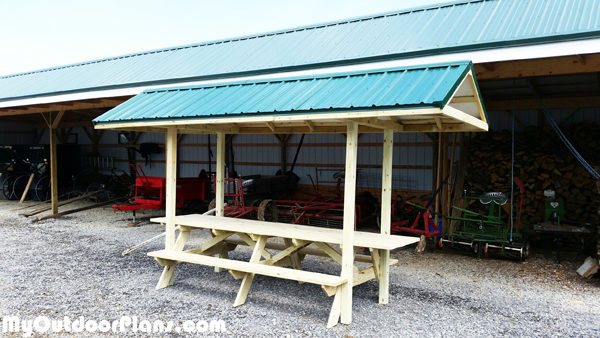 From Dan Kostella, 
Our first Prototype Table has been built. We decided to go with a metal roof and leave the roof 16 ft long instead of 15 ft. It seemed to be a waste of lumber since most wood we ordered had to be 16 ft long anyway. We had 2 problems with the table that did not meet the DCNR's approval:
1) Was that the sides of the roof were not long enough to keep people's backs from getting wet during a rain fall.
2) They felt that the top of the roof sides should be covered to complete the look and to help with rain fall on the 2 handicap ends.
We had the table built by a local Amish Crew that has done work for us in the past. We are going to try to extend the roof by at least a foot or two and close the roof ends our self's. Attached is a few pictures of the Table we had built and welcome any suggestions. Although we do not have the table placed on the trail yet, it should not be long now. Unfortunately, with our board meeting only once a month, thing move slow. However, I feel we are on the right track and we plan to either apply for grants or donations to get 1 table at least every mile of our 34 mile section of the Pittsburgh to Erie, PA Trail. I will also try to update you with new pictures as we move this project along.
I want to thank you for your work and suggestions on this projects. We are a small group of 7 active board members and about 300 lifetime members that ride on our trail and all they do is complement us on our work and progress. We operate on limited funds and our budget is very tight. I just wanted to keep you in the loop and THANK YOU very much for your help. Also, to let you know how important your help is.
Thank you very much,
Dan Kostella – http://armstrongrailstotrails.org/
Board Member of ARTA (Armstrong Rails To Trails)
And committee lead for Covered Picnic Table Project