8 ft Picnic Table – DIY Project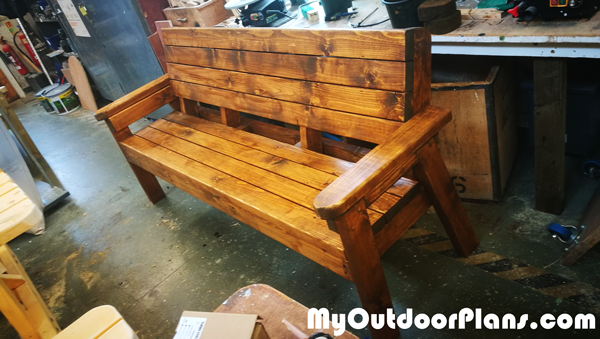 From Emmy, 
Built inspired by plans for "Large Outdoor Bench". We added a few inches to the legs as thought it was a bit low.
Used 2×4 rough sawn easy edge timber and turbo coach screws. Everything was screwed through the backrest supports and frame from the bottom so no visible screw holes in backrest and seats. Added bits of 2×2 outside the armrest supports so could screw in armrests from the bottom too.
Extended it to a three seater in this picture. Filled holes on back and sides with plugs and sanded well. Stained in light brown Ronseal wood preserver. Used about £50 of wood, £5.99 in turbo coach screws plus stain. Less than a day's work, added time for figuring out screw holes etc. Very happy with it and have since adapted it to different sizes.