DIY Double Chair Bench with Table Plans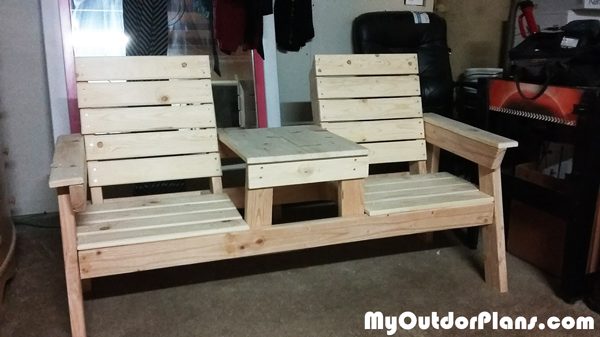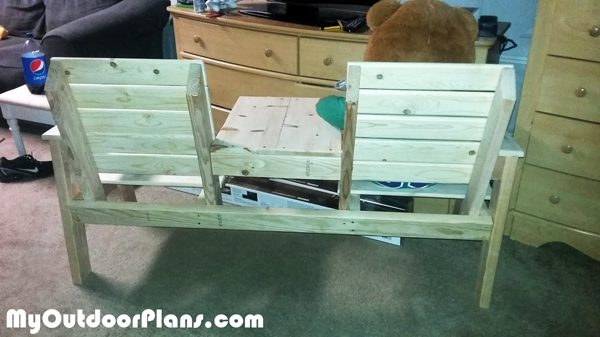 From Connie Arteaga,
I kind of wanted to stay with the same type of look of my previous project the, wishing well and saw this cute little bench and table combo at the store OMG it was $299 + tax, So I came here my favorite outdoor plans and found a similar bench. In anticipation of rain I decided to do all my cuts beforehand and assemble later in the garage. This method was not has efficient; I would strongly suggest read through cut, build, cut build because I ended up with too many of one piece not enough of the other and this project has similar cuts only off by 1/4".
In the end it all worked out. This plan was a bit more complicated than the wishing well and I found I had to really work to understand the directions and ended up taking the whole frame and legs apart and doing it over. (my frame was upside down and backwards) The directions could be less wordy & supplemented with better diagrams or pictures. I finally ended up using Popsicle sticks to figure out what to do. Just a hint; do it in sticks before trying it with your good wood.
To clarify the instructions "A" the frame the 75 degrees angle is the back, the straight side is the front. Maybe change a few more things but overall great set of plans. In all I spent $59.00 in material have enough left over for another project A day to cut and a day and a half to assemble. I'm still up in the air about staining it. But overall I'm impressed with the all-natural look. Thank you My Outdoor Plans