DIY Childs toy chest and bench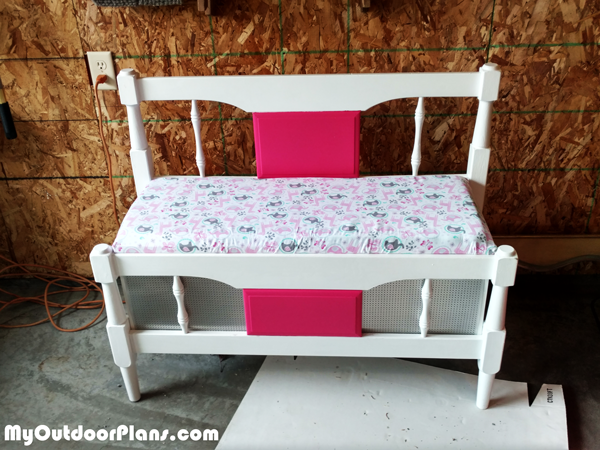 From Christa Wonser,
I bought a antique single size headboard and footboard for about $80. Loved the simplicity of it but didn't know what I was going to do with it. Then by grandaughter was born. Every child needs a toy box right? I made no changes to the head or footboard. I just boxed it in. Then I headed to Menards to find what I had in my mind to close in the openings. I bought a sheet of metal ($30) and cut it to fit the openings. I paid special attention to tack it in with the edges at the top of the piece so the sharp edges were at the bottom so she wouldn't get cut.
After I had it all together I took a 1/4″ piece of plywood and cut it to fit the opening of the top. I had some 1/2″ foam laying around and I bought 1 yard of fabric to make a padded seat for the cover. I kept it simple, painting it white with bright pink accents to match her bedroom colors. Bonus is when she gets older I can always change out that yard of fabric to a more mature piece. A Timeless piece for her to grow old with.