8 ft Picnic Table – DIY Project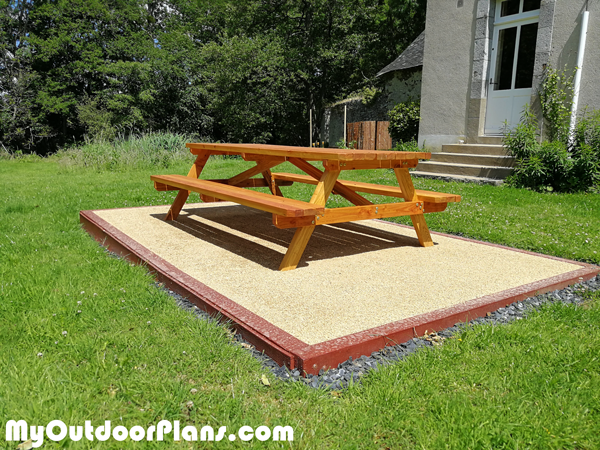 From Bruno, 
I'm Bruno from Brittany, west of France. First I want thank you for your free plans that helped me a lot for this 8 foot (250cm L, 87cm W) picnic table with Douglas wood. In fact this was my very first wood project. I would like to tell you some remarks about the realization :
– I didn't use carriage bolt but only screws for carpentry (8mm, hole 6mm) to fix supports with the legs.
– I didn't pre – cut the brace., but I took measures after the legs were put between some cinder blocks with the right length of the table, and absolute verticality of the legs, then fix 4 pieces of the seat and the tabletop, then I took the measures and cut the braces.
– To maintain the gap between the pieces of the table top and the seats I used some 5mm screws spread between 2 pieces. Very easy to remove , if necessary with the drill.
– Treatment of the wood with a non toxic oil (base with linen)