DIY Wood Workbench Plans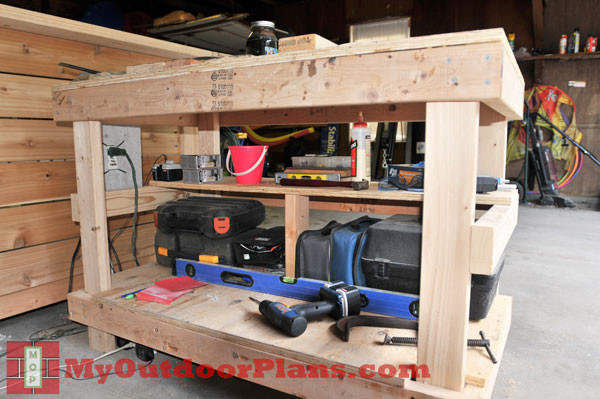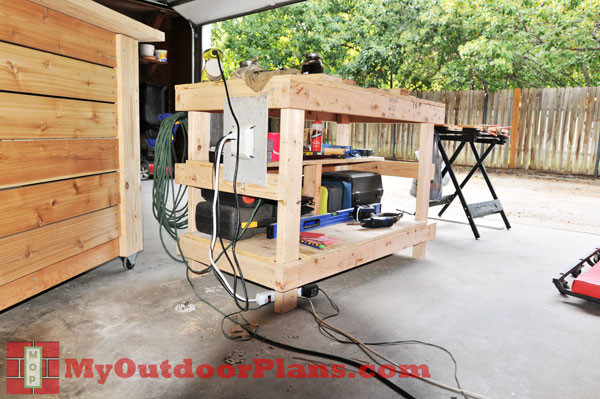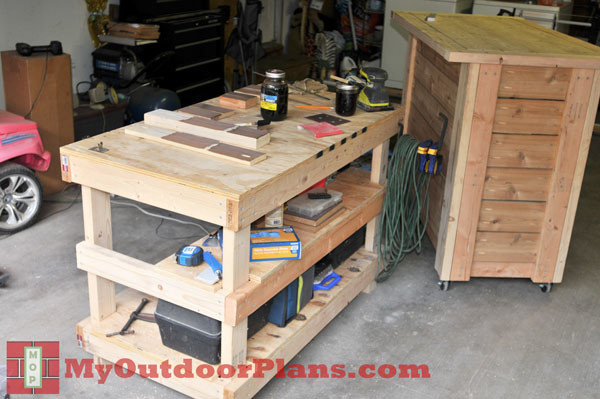 From Kevin Mc Natt,
My wife volunteered me to make a counter for my daughter's upcoming fifth grade class. They needed a counter for an in-class cafe the teacher planned on utilizing to introduce business skills to the students. The free bar plans were selected. After starting the bar I found I needed a workbench and I chose the woodworking table plan. I really wish I would have built the workbench first. Live and learn!  It took me a couple of afternoons to complete the workbench as I hand cut wood (no circular saw).
Wood cost:
2″ x 4″ x 96″ Framing studs x5 $14.90
23/32″ x 4′ x 8′ Sheathing    $22.18
$37.08 plus tax total.
I was a little short on the 2 x 4s and made a modification for the shelf support you can see in one of the pictures. I have not put a finish on it yet as the bar is the real priority. I will post pictures and details when the bar is done. You can see the incomplete bar in a couple of the pictures. When I put a finish on the workbench I will submit a final picture or two of it. I use the workbench whenever I work on the bar. I have had the bar on the workbench minus the top. I have been on top of the workbench doing some sawing and the like and it is a very sturdy design and was fairly simple and a joy to make. Your free plans were easy to follow.
Thank you very much for putting these plans out there as I am not sure how one of my plans would have held up.  I would have probably un-volunteered myself.  My wife and daughter thank you also.