DIY Project – Swing Stand Arbor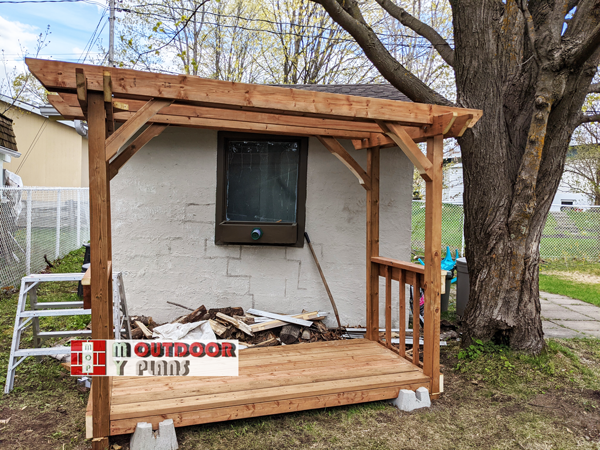 From Jessica,
Hi, I just completed the arbor swing stand. It was the first project I ever did, so I really took my time. It took about two days to complete. Instruction are not for beginner. It usually just say assemble with X length screw, not really saying haw many or where to place them. Some time it was obvious, some other time I really had to thing about how to do it. But I did manage alone with no previous experience, so I assume somebody a little less inexperienced would not have problem with the instruction.
Also if you check the quantity of wood you should buy, the list (for the total) is wrong, it does not take the 2 railing in consideration, only for 1. I did not want to go buy more, so I manage using less baluster (3 per side instead of 5) and using the leftover 2 x 6 for the bottom cleat, but beware it's about 36 inch, so you can screw it in place, but there some missing at each end, I used another 2 x 6 leftover to cover the 4 little bit missing, since it's on the bottom it does not really show, also with the price of the wood these day I was more than happy to use leftover.
This is my first Project so maybe it's normal, but I also find that there is a lot of leftover, maybe buying different length of wood (instead of mostly 8 feet) would help with that, not sure. All in all, really happy with how it turned out. Can't wait to start the swing to go with it. For the price I purchased the wood for the swing also and with the crazy price we have here in the pandemic it cost me about 900$ (screw included).
EXPLORE MORE IDEAS FOR: