Are your plans printable?
YES! All my plans are printable. You can print the plans or save them as a PDF file using the floating green widget on the left side of the screen (working only on desktop, not on mobile). The green widget has a printer icon.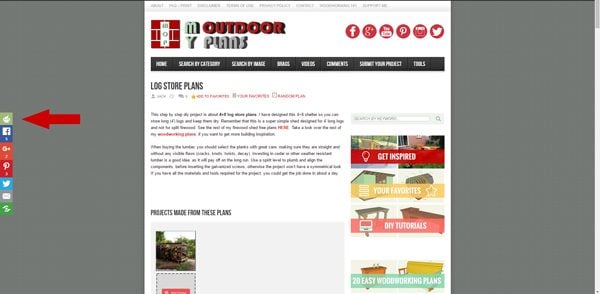 How much will your projects cost to build?
I have not included a cost estimate in my plans, as the price of the materials differ according to your location. In addition, there are many considerations when building projects, starting with the type of lumber you are going to use (construction, pressure treated, redwood, cedar etc) and up to the extras you choose the install. The easiest way to determine a rough estimate is to use my MATERIALS LIST. I put a lot of time and effort in making the list as accurate as I can, so you only have to add up the costs for each item.
When are new plans posted on the site?
I try to post plans at least three time a week: Monday, Wednesday and Friday. Sometimes, if I have more time available, I publish almost daily.
Are there premium versions of your plans?
No, for the time being. All my plans are totally free and I will keep them like this for an indefinite period of time. I have started this blog having in mind the needs and budget of an average DIY-er and I understand how important it is to have access to quality plans 24/7. In the future, I might add extended versions for the complex projects.
What software do you use to create the plans?
I use Sketchup.
Do you make custom plans?
It depends. Even if I design plans using readers suggestions and I encourage you to share your project ideas with me, I cannot create them for all sizes out there.
Can I build projects using your plans and sell them?
Yes, of course. I have set up this site willing to help as many people out there, so you can use my plans for both home projects for also for setting a small business. However, don't forget to show me your projects, so I can feature them on the site!
How can I support MyOutdoorPlans?
The greatest reward I can get for my work is to see the projects built by you using my plans. In addition, I would appreciate if you follow MyOutdoorPlans on the social media networks and share my projects with your friends.
If you want to support MyOutdoorPlans with no costs to you, you should consider buying something from Amazon and I will get a small commission for referring you. While I don't like receiving money directly for a work I do as a passion, you can also send me a tip, if you are feeling extra generous.
Do you also build projects or you just design sketches?
I have been building projects since I was 10 year old. Working with wood is my therapy, so when I have some spare time I'm usually in my workshop making stuff. I haven't shared my DIY work on the site as I'm focusing on making the largest resource of outdoor plans on the internet. I am the kind of guy that would rather excel at doing just one thing than chasing two rabbits. However, I still build projects out of necessity. You can take a look over some of my personal DIY projects, on my other blog at: http://howtospecialist.com/category/featured_projects/
Who is running MyOutdoorPlans?
My name is Jack and I own MyOutdoorPlans.com I am the one designing the plans and answering the questions. I don't like to stand out, as I try to focus more on creating better plans each day, rather than talking about me. MyOutdoorPlans is all about YOU and YOUR projects! Read more about me HERE. I also have an assistant that takes care of the administrative matters.
Where can I find MyOutdoorPlans on social media?